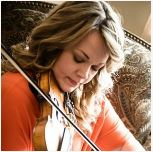 Prerequisite: Student should be able to play in 1st, 2nd, 3rd, and 4th positions. Student needs to be comfortable playing double-stops because I will teach tunes that have whole sections/parts in double-stops. Student MUST be able to learn by ear and/or tab. Most tunes will be taught with tab and a few taught by ear.
Style: Texas style, Swing, Bluegrass, Twin Fiddle and Celtic.
To play many different styles of music, have fun playing and push yourself to be a better musician.
Tab and CD only