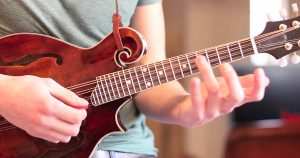 Prerequisites: As the title implies, there are no prerequisites to this class other than a mandolin and a desire to learn more about the instrument and how to play it.
Styles: This class will begin with the mechanics of playing the mandolin, including concepts and exercises aimed at developing correct left and right hand techniques. Along the way we'll also be learning some simple tunes and chords that will reinforce these ideas and allow you to begin developing your repertoire of melodies and songs to provide a solid foundation for the study and practice of the mandolin.
CD, Musical notation and tablature provided.