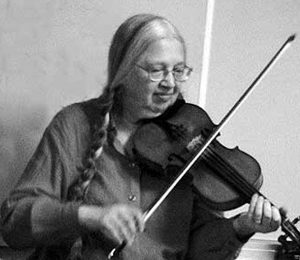 Prerequisites: Ability to play intermediate level tunes (for instance Turkey in the Straw, Tennessee Waltz, Redwing) up to dance speed and with nice tone.
Styles/tunes taught: At least a dozen tunes, mostly from America, Canada, and the British Isles, appropriate for old time dancing, including waltzes, hoedowns, reels, polkas, and two-steps.  There will be a couple of easy tunes and a couple of pretty challenging ones; the rest will be somewhere in between. We will be picking each tune apart phrase by phrase, so you can learn them by ear and don't have to be a note reader.
Course objectives: Playing with authority, which requires solid rhythm, appropriate dynamics, and a reasonable tone: all of these can be achieved by proper control of bowing.  Thinking chordally to help develop the ability to "hear" chord changes, for playing backup on the fiddle, finding harmony parts, and improvising over a chord progression without relying on memorized licks.  Making scales and arpeggios automatic to facilitate intonation, finger dexterity, improvisation, and picking up new and technically advanced tunes. Becoming comfortable with position playing, and playing in challenging keys such as B and B flat, using the "first finger capo" technique. Using bowing patterns such as the "Nashville Shuffle" and the "Georgia Bow."
Materials provided: Packet of written music (no tab) and CD.