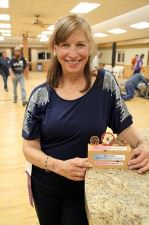 Prerequisites:  Several years playing and familiarity with many common jam tunes. Interested in adding to your repertoire and improving your ability to play by ear with the help of a knowledgeable, experienced and patient teacher.
Description:  The class will be learning a good selection of tunes in a supportive setting, with moderate pace, a variety of keys and techniques, and plenty of repetition. I hope you'll have fun, improve your fiddling skills, and gain confidence in playing by ear. Music learned by ear is retained better than music "memorized". Music learned this way captures, not just the notes, but also the feel and style of the fiddler you learned from. You'll be learning with your eyes, as well as ears. I'll show you the bowing, embellishments, and double stops that give the tunes rhythm and expression. I'll refer to the chords of a tune, and show how their scales and arpeggios can help you learn the melody.
Styles/tunes taught:  Some of my favorite tunes in styles such as oldtime, bluegrass, swing, celtic, Texas and Canadian fiddling.
Materials Provided: Transcriptions of all tunes provided at end of the week for continuing practice at home. MP3 recordings of the tunes to download; CDs by notifying instructor in advance. Music stands not needed.