REGISTRATION DOES NOT OPEN UNTIL April 3rd, 2023.
Once you have logged into your membership account on the WOTFA.ORG site there will be a post under the News Section on the right side of the website.  Click there and if your membership is current you should find yourself on a website called Ticket Tailor that is handling our registration this year.  It should look like this (but nice and easy to read)
Click on the "Register" button and make your selection of participants you will be paying for in this order.  It can be a mix of those on scholarships with those paying their own way.  Please remember that you must communicate with your local district to see if scholarships are available PRIOR to registering.

Prices this year are per person, no matter if you are taking one or two half day classes.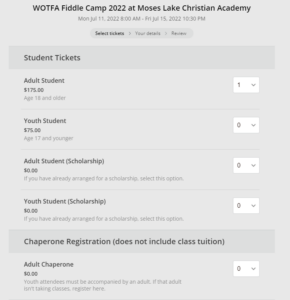 Once you have everyone's tickets, the price will show at the bottom and you will click "Next"

This will bring you to the page where you fill in each student's name, email, phone, and lodging type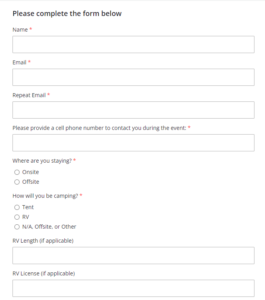 The next section is where you select the class.
Since ALL classes are Half Day, please select the primary class (first choice) you want with the first drop down menu.
Then please select the class that, if there is room, you would like to take for the other half of the day.  If there is room after those that chose it for their first choice, you will be added in the order of purchase.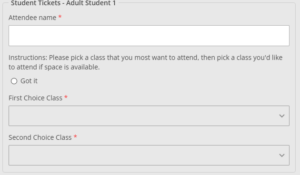 Click the next button at the bottom once you have filled everyone's classes out and it will take you to the payment options.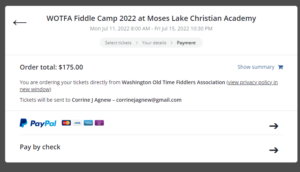 You do not need a PayPal account to use the PayPal option.  You can pay by debit or credit using the PayPal option.
If necessary, you can pay by check but please be sure to put your order number on the memo of the check and Make it out to:
WOTFA
512 S Thierman Rd., Spokane Valley, WA  99212